New Equipment
Central States Machinery is fully committed to ensuring your machinery needs are met. Our product line encompasses Fabrication, HVAC, Precision Machinery, and Metal Processing Systems. From start to finish, customer service is our TOP PRIORITY. Our knowledgeable sales force guides you through the sales process. Experienced and professional technicians train you and your staff on site. All are available to support you long after the sale.
Bar Folders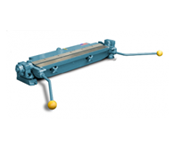 Pexto - Adjustable Bar Folders
MODEL NO. 055
MODEL NO. 63
Versatile machines that are adjustable and performs many essential sheet metal operations using one motion to clamp and fold. The machines are used for S Clips and Drive Cleats, forming sharp locks on edge of sheet metal for double seams, open locks for wired degrees, flanges of various degrees, and single or double hems. For radius bends, short run production a quick set back gauges is included. Steel floor stand is available as separate accessory.