New Equipment
Central States Machinery is fully committed to ensuring your machinery needs are met. Our product line encompasses Fabrication, HVAC, Precision Machinery, and Metal Processing Systems. From start to finish, customer service is our TOP PRIORITY. Our knowledgeable sales force guides you through the sales process. Experienced and professional technicians train you and your staff on site. All are available to support you long after the sale.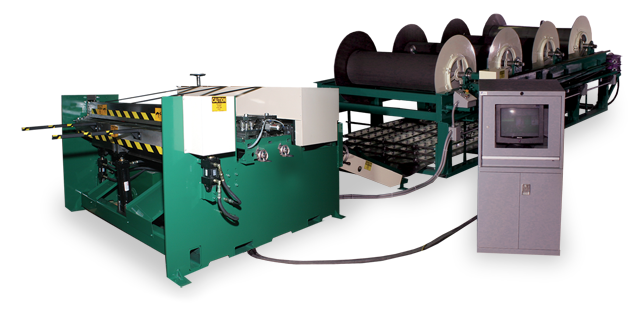 The Duct-Line Express Shear-n-Bend with Cleat Former is expandable to a Full Coil Line system at anytime. This practical solution includes an uncoiler (patented), feeder, straightener unit, beader, cleat forming head, notching unit, heavy duty shear and bending unit.
Vicon Coil Line software program for Windows
ViSoft Software is menu-driven, user-friendly and can be set to SMACNA standards or customized to your shop standards. Continually updated and supported by Vicon's experienced team of programming engineers, ViSoft ensures enhanced productivity and superb part accuracy.
Features & Benefits
Pneumatic back-up wheels at each coil station for safe band removal and positive coil feed.
Robust, gear-driven four (4) roll straightener with 4" diameter rolls.
Ring type beading with SMACNA spacing.
Heavy duty notching unit with combination dies to provide Slip & Drive, TDX, Snaplock and Pittsburgh notch patterns.
Dual hydraulic cylinder shear with high carbon, high chrome D-2 shear blades. Fully adjustable heavy duty gibs allow for independent blade gap adjustment. Heavy duty torsion synchronization shaft insures proper shear angle throughout the stroke.
Integrated rollforming produces hems or flanges on the edge of the material.
Rugged bending unit to form the male Pittsburgh edge as well as either an L-section, U-section, or full wrap duct.
Vicon PC based control system capable of controlling a complete system.
Hands-free coil feed
Options
72" coil width
Precision, high speed servo system
Tie rod hole punch unit Model HP-5 provides tie rod and damper holes per SMACNA standards (or your own standards).
Male button punch system for Snaplock male edge.
Economical overfed coil cradle systems for smaller overall footprint.
Shear-n-Bend w/ Cleat Former
Loading a coil spool
Specifications
16-30 Gauge mild steel capacity
12,000 lbs maximum coil capacity (with coil drive)
Coil widths from 48" - 60" standard
Up to six coil stations available
Quick-change coil spools (patented)
Hydraulic coil drive
Powered in-feed guide ramp with hand wheel for change in coil widths
Approximately 70 FPM line speed