New Equipment
Central States Machinery is fully committed to ensuring your machinery needs are met. Our product line encompasses Fabrication, HVAC, Precision Machinery, and Metal Processing Systems. From start to finish, customer service is our TOP PRIORITY. Our knowledgeable sales force guides you through the sales process. Experienced and professional technicians train you and your staff on site. All are available to support you long after the sale.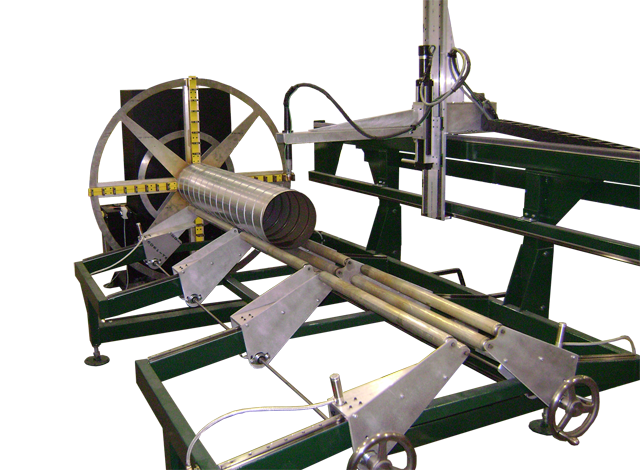 The Vicon Spiral Pipe Cutting System is the ideal solution for plasma cutting round pipe and spiral duct up to 10' long - ranging in size from 4" to 60" diameter and in thickness from 26 to 16 gauge. Vicon's patent pending technology has the ability to end trim, miter and cut various shaped holes for precise location of tap connections, branches, elbows and register grills.
Vicon's ViSoft Spiral Pipe Software generates the desired cutting parameters and controls the longitudinal movement of the plasma torch, as well as the rotation of the pipe that is held by a rotational pipe chuck. The software not only generates patterns and shapes, but also has the ability to add allowances that increase or reduce the shape and pattern size for allowing connections either to or from other pipes or items.
Features & Benefits
ViSoft incorporates a Pipe Fittings Library including Pipe Ends, Pipe Tap and elbows
The Pipe Elbow Fitting will cut gore elbows out of Spiral Pipe
The Pipe Ends Fitting will allow for cutting the ends of the pipe with mitered or tap-in patterns
The pipe can be trimmed at one or both ends as well as cut into various lengths
The Pipe Tap Fitting allows various shaped cutouts to be cut at any position along the pipe
The software allows the user to manually place holes, miters, coping or trim cuts on the pipe at any given angle
The program produces labels for round and spiral pipe
Can be used as a stand-alone system or can be tied into an existing Vicon plasma cutting system