New Equipment
Central States Machinery is fully committed to ensuring your machinery needs are met. Our product line encompasses Fabrication, HVAC, Precision Machinery, and Metal Processing Systems. From start to finish, customer service is our TOP PRIORITY. Our knowledgeable sales force guides you through the sales process. Experienced and professional technicians train you and your staff on site. All are available to support you long after the sale.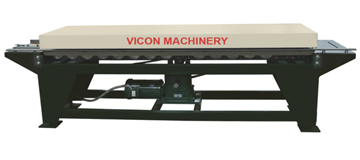 The Vicon TDX 16 Station Rollformer is tooled to produce the T-25b transverse flange (four-bolt) connection. This profile has been evaluated by the SMACNA Testing and Research Institute and meets testing criteria as called for in SMACNA's HVAC Duct Construction Standards.
The TDX Rollformer is equipped with one set of TDX tooling mounted left outboard and has one inboard and one outboard roll space available for optional tooling based on shop requirements.
Features & Benefits
Sixteen (16) Forming Stations for superior quality
18 - 26 Ga. Material Capacity - no adjustments necessary between gauges (16 Ga. option available)
70 FPM Forming Speed
Independent adjustment at each forming station with pre-set spring tension
Large, heavy duty bearings with inner races and grease fittings protect roll shafts and extend bearing life of the machine
Slide out shaft design allows for easy maintenance
Heavy duty 1-1/4" diameter stress proof roller shafts
Woodruff shaft keys for added strength and precise alignment
Hardened infeed guides reduce wear from plasma cut edge
7.5 HP Motor coupled to industrial oil bath gear reducer for quiet longevity
Heavy duty roller chain drive, no belts
Tooling Options
Location
Profile
1-1/8" 20-24 Gauge
Standard Standing "S"
Inboard
TDX Clip 2-1/4" Material 20-22 ga
16 Station
12 Station

Inboard
Outboard
1-5/8" 16-20 Gauge 2-in-1
Standing Seam
Outboard
1-1/8" 18-24 Gauge 3-in-1,
Tap-In-Lock, Standing Seam &
Right Angle Flange (10 Stations)
Outboard
2" x 2" Angle,
16 Gauge Capacity
Outboard
16-20 Gauge 7/16" Pittsburgh
(8 Stations), 1-3/8" Notch
Outboard
18-26 Gauge 7/16" Pittsburgh
(8 Stations), 1-3/8" Notch
Outboard
Special Option Available
TDX 16-24 Gauge Capacity
50 FPM
Outboard
TDX "C" 18-26 Gauge (T-25a)
Outboard